Electricity
Electricity is supplied by Sask-Power. For information phone 1.888.757.6937
Natural Gas
Gas is supplied by Sask-Energy. For information phone 1-800-667-3075.
Telephone And Internet Access
Telephone services are handled by SaskTel. For rates contact 1-800-303-9779.
SaskTel also handles most of the Internet service. For information phone 1-800-773-2121. Other suppliers of high speed Internet include Access Communications, Shaw Cable, Yourlink, and Xplornet.
Law Enforcement
The Village of Young has a contract with the Royal Canadian Mounted Police to provide police services.
The detachment has four officers including a sergeant, of which two members patrol the rural municipality and two members patrol the urban municipality.
The RCMP can be contacted at 1-306-946-3316 or the 911 service.
Ambulance and Health Services
The Village is served by a well-trained volunteer staff which includes two ambulance vehicles out of Watrous. This unit is closely associated with the fire department and therefore has access to such rescue equipment as the "Jaws of Life".
The Ambulance can be contacted through the 911 service.
The closest hospital is the Watrous Hospital located 22km to the east on Hwy #2. It was constructed in 1988 and has four acute care beds and ten long care beds. The Watrous Hospital also manages the Manitou Lodge, which has thirty-four long care beds, one respite bed and twenty suites.
One medical clinic with two doctors, and one dental clinic with two dentists is located in Town of Watrous.
Saskatoon Health Region offers Home Care services in Young providing home support and nursing services to assist residents of Young and area to maintain independent living and to remain in their own homes.
Churches
St. Patricks Roman Catholic Church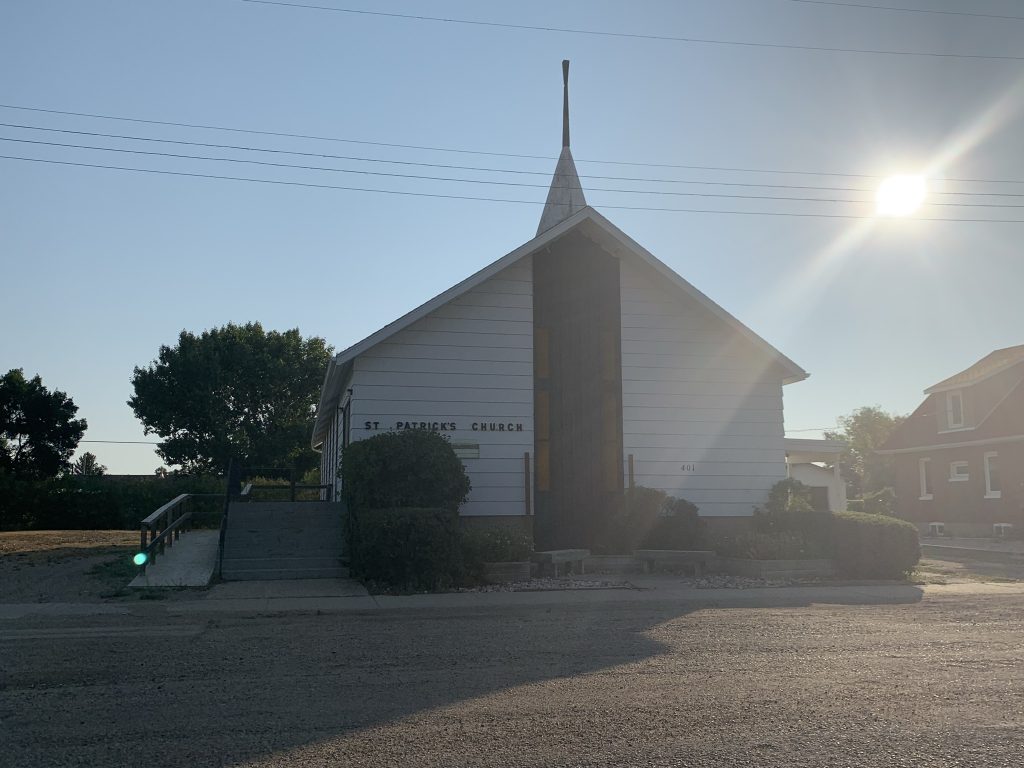 St. Patricks church shares a priest with Watrous (St. Annes) and Imperial (St. Pius). We do tri-parish fundraisers for shared expenses and annual appeal to support St. Patricks on-going expenses.
Mass Schedule – Rotate on a 3 week schedule with Watrous and Imperial. September 19th – 11:00 a.m., following week 7:00 p.m. and the following week 9:00 a.m. Evening masses with change to 5:00 p.m. in October/November.
Parish Council Members:
Mary Ann Wailing – Chairperson – 306-259-2024
Cheryl Schaan – Vice Chairperson, Secretary – 306-259-4550
Denise Dewey – Treasurer – 306-946-9878
George Hellman – Maintenance
Fred Schaan – Maintenance
Cemetery – Kelvin Gieselman – 306-946-7579
Christ Lutheran/Young United Church Shared Ministry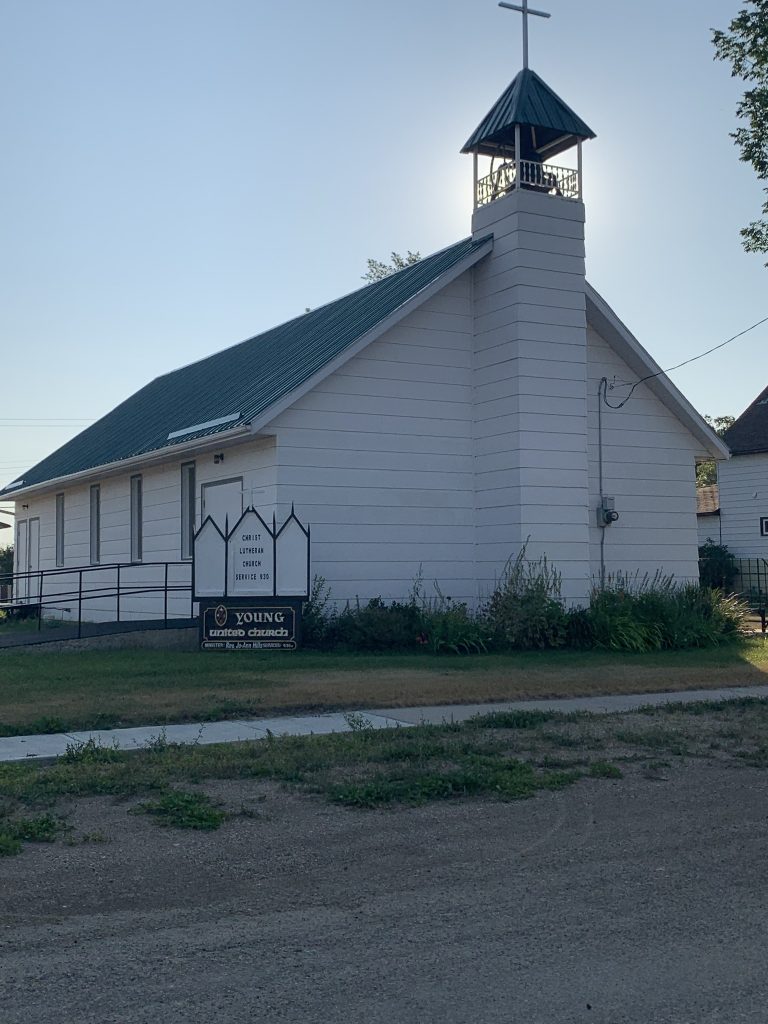 Reverend Jo-Ann Hills – Watrous Pastoral Charge – 306-946-3592
1st and 2nd Sundays of each month – United Church Service
3rd and 4th Sundays – Lutheran Church Service
All are Welcome!
Young Zelma Legion #358
Meetings are the last Thursday of every second month at the Legion Hut in the basement of the Young Community Hall. New members welcome.
Young boasts several opportunities for recreation in all seasons.
Volunteer Committees
Parks and Recreation Committee
The Parks and Rec Committee is made up of members of each of our committees as well as an RM and Village rep. The members are Taylor Johnson (president and swimming pool rep) Agnes Thompson (village rep and Bingo rep), Bobbi Crittenden (village administrator), Fred Schaan (hall board rep), Aaron Rowan (skating rink rep), Robby Bryson ( RM rep) and Jaise Currie (member at large). The Parks and Rec committee meets approximately once per month for a meeting where we discuss what is happening with each committee, fundraising efforts and where our fundraised money is best spent. We would always welcome more members to get a better scope of what would be best for the community as a whole.
Young Parks and Rec is looking for Bingo Workers! Bingos are finally in full swing again.
We work bingos at City Centre Bingo in Saskatoon. Credits used by working a bingo can be put towards your swimming pool fees, swimming lessons, or skating fees.
The bingos consist of double bingos (5:00 pm to 1:30 am) or matinee bingos (12 noon until 5:30 pm). For every bingo you volunteer fo you will receive a $30 voucher to be used at the swimming pool or skating rink as noted above. So when you work a double bingo, you will receive a $60 credit. These credits will expire one year after issue. No duplicates will be issued if lost.
We need 22 volunteers to work a double bingo. You can work both the first and second bingo in the double, or either the first OR the second. We usually arrange for drivers. Volunteers should be 14 years old to work, unless you have great math skills and can quickly add, subtract and multiply!
The money we earn from the bingo hall for working these bingos goes towards maintaining and running our community facilities including the Community Hall, the Swimming Pool and the Community Rink. In order not to use the money from our Village taxes for maintenance and repairs on these facilities, we raise money with these bingos.
Hall Board Committee
The Hall Board consists of three members at this time – Brian Rowan, Terry Haughn and Fred Schaan. One member is asked to sit on the Parks and Recreation Board to represent the respective board at monthly meetings. We oversee repairs and maintenance at the Hall.
The Hall is rented out, through the Village Office, for Fall suppers, meetings, weddings, funerals, fund raisers, drama, showers and other functions.
We do fundraising to raise money for upkeep of the hall – including fish fry and selling cases of fish. We also fundraise with the Parks and Recreation group for larger expenses/projects.
New members are always welcome to join the Hall Board Committee!
Young Rink Board
The Young Rink Board is a committee made up of 9 people: Jon Haines, Jaise Currie, Jarret Currie, Brennan Rowan, Aaron Rowan, Brodie Freyling, Trevor Soderberg, Spencer Shouse and Kenny Dengler. The group volunteers their time to put the ice in and maintain it throughout the winter. We operate on community support through skating fees and we are always looking for volunteers to join and help keep the facility in the community.
Young Swimming Pool Committee
The Swimming Pool Committee at present is made up of 4 members. Taylor Johnson (president), Kellen Dreger, Alex Dengler and Tahra Jones. We over see the opening, closing, hiring, maintenance and fundraising that keeps our community swimming pool operational. Much of the year our commitments to the committee are minimal, unless planning a fundraiser. The bulk of our commitments are from April to July which consists of hiring lifeguards and opening the pool for the season. Once the pool is open, our manager for the year and Taylor our main contact for the lifeguards handle most things. We would love to see a larger committee to help with hiring and responsibilities of opening the pool.